C++ Day 2018: Wrap-up post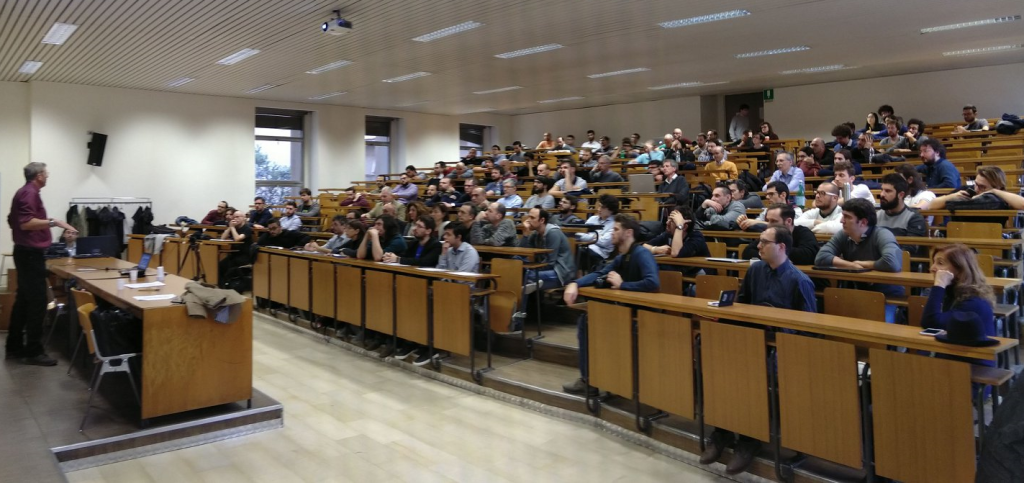 Two weeks ago, on November 24th, we had an awesome day about C++ in Pavia: the C++ Day 2018. We co-organized this event with the University of Pavia and in particular with two proactive guys: Riccardo Brugo and Federico Pasqua. The event was hosted by the Physics Department and by the director Alberto Rotondi which actively supported the C++ Day. Many thanks to all the people involved and to the university!
The C++ Day 2018 had ~110 attendees, like the previous edition in Modena.
The event was possible thanks to a joint effort between a few people from the Italian C++ Community staff (Alessandro Vergani, Illya Dudchenko and I) and the local hosts Riccardo, Federico and the Physics Department of the University of Pavia.
That's all about the C++ Day format: a joint effort between the Italian C++ Community and a local host. As I told during my welcome and closing messages, the call for C++ Day 2019 is open! The C++ Day needs two things:
an event location with at least 2 rooms with 150 seats each and some space for catering and sponsor stands. Possibly free;
some support to co-organize the event. Let's speak about it.
If you are keen on hosting the C++ Day 2019, please get in touch! And if you have just questions, ask!
The C++ Day 2018 had two sponsors which I would like to thank again:
Last but not least, thanks to all the speakers and to all the attendees!
I have published several pictures of the event here on our Facebook page.
Some stats
We have some stats, as usual.
Attendees gender:
male: 89,
female: 8,
not declared: 9.
Attendees coming from abroad: 5.
Responses to the C++ survey: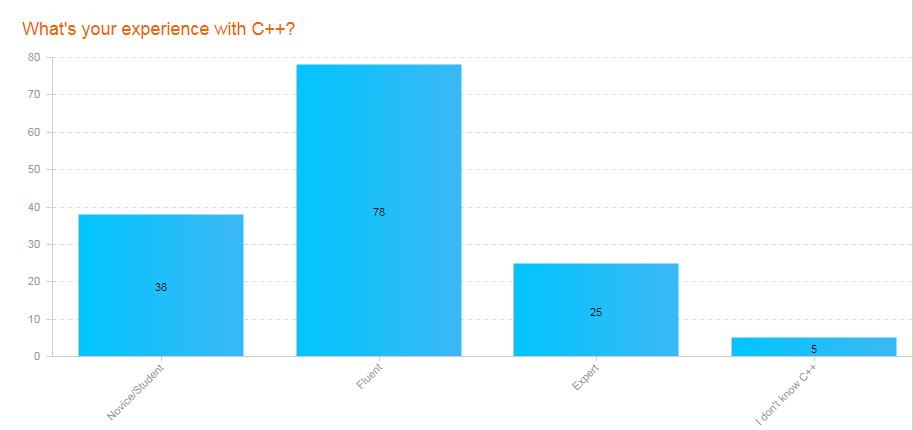 Structure and contents of the event
The C++ Day 2018 was a full-day event about C++ development with 1×90′ keynote and talks arranged in two parallel tracks throughout the whole day: 8×50′ talks and 2×20′ short talks.
Networking and breaks: 1h before the kick-off, 2×30′ breaks (1 morning, 1 afternoon) and 90′ lunch break. We served snacks, coffee and drinks during both the breaks and we could even offer a full meal at the university restaurant to everyone thanks to the sponsorships.
Less than half of the talks were in English (slides here and videos still to be published). John Biddiscombe gave the keynote HPX : High performance computing in C++ with concurrency parallelism and futures, very appreciated according to the feedback received. Other talks were about several other topics like C++20, GIS in C++, Optimization, Templates, Reflection, AI, Algorithms, …Check out the event page for more details.
Feedback
As it usually happens, about 50% of attendees gave feedback. I am personally very happy about the results.
Best #cppDay18 tweets
Our events come with prizes only for "best tweets". The definition of "best tweet" is unspecified though…A few are listed below:
I love the smell of C++ in the morning. #cppDay18

— Andrea Benedetti (@enigmagame) 24 novembre 2018
John wears two watches: one for the present and one for hpx::future. #cppday18

— Luca Diciotti (@luca_diciotti) 24 novembre 2018
#cppday18 a flaw in the waste design: you pass plastic by copy… So you still have one to dispose pic.twitter.com/P3s0cFgtLp

— Max Pagani (@maxdpagani) 24 novembre 2018
What's next
We are diving into the organization of the Italian C++ Conference 2019. It will be in Milan, as usual, but we don't have a confirmed setting yet, so we are considering alternative locations. If you know one, please get in touch!
In 2019 I will keep on arranging monthly C++ meetups in Modena, hosted by ConoscereLinux (which I have been recently joined the official council).
In addition, I am putting a lot of effort and time to direct Coding Gym that we will bring to new cities in 2019. As a trainer, I will keep on organizing Coding Gym in Modena on a monthly basis.
Coding Gym is a place where we practice expressing ourselves through programming and collaboration. I put emphasis on "expression of ourselves" because it's what I consider our most important thing as human beings. If you like knowing more about Coding Gym, just come over. If you cannot, visit the website or drop me an email ($myName [at] italiancpp [dot] org).
That's all. See you in 2019!